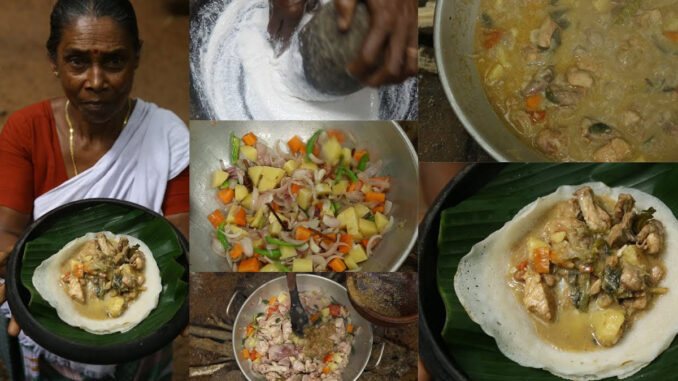 Ingredients
*Raw rice – 3 small glasses.
*Shredded coconut- as required.
*Yeast – 1 pinch.
*Sugar – 2 Teaspoons.
*Salt – as required.
*Coconut oil – as required.
*Chicken – 1 kg.
*Carrot -1 no.
*Potato – 2 small nos.
*Green chilies – as required.
*Onion – 4 small nos.
*Tomato – 2 nos.
*Shallots – as required.
*Ginger * big piece.
*Garlic – 1 no.
*Cloves.
*Cardamom.
*Cinnamon.
*Curry leaves.
*Coconut milk thick and thin.
*Pepper.
*Fennel seed.
Method
1) Soak rice in water.
2)Grate coconut.
3)Grind soaked rice and coconut in a stone grinder. Add fermented yeast to the batter and keep it aside for fermentation overnight. Add salt and sugar once fermented.
4)Using an appam pan make appams after greasing the pan.
5)Clean the chicken and keep it aside.
6)Clean and chop shallots, chilies, ginger, onion, potato, garlic, carrot, and tomato.
7)Prepare both coconut milk.
8)Take a pan to make stew and heat. When oil heats add onions and saute. Add in the chicken. Add cloves, cardamom, cinnamon, green chilies, potato, carrot and saute. Once they are half done add tomato and curry leaves and saute. Now add in thin coconut milk and let the cook.
9)Make a paste of fennel seeds and pepper.
10)Add the paste to the chicken and vegetable curry and add thick coconut milk and before it reaches a boil remove from flame.
11)Serve hot appams with stew.
Authentic style appam with chicken stew ready!