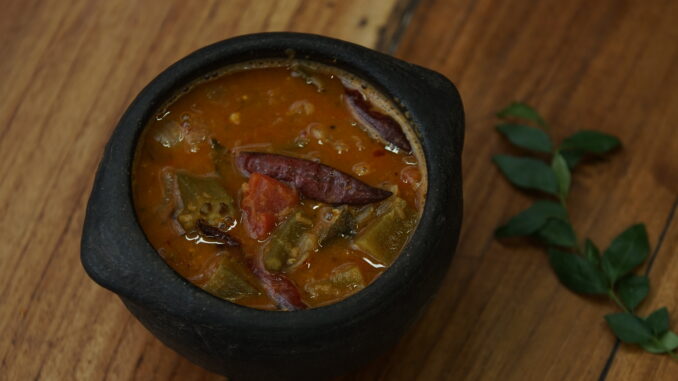 Ingredients
Ladies finger -5 nos
Toor dal – ½ cup
Onion – 2 nos
Green chilli – 2 nos
Tamarind – small ball shape.
Tomato – 1 nos
Curry leaves – 2 nos
Red chilli powder – 1 tsp
Coriander powder -1 tsp
Turmeric powder – ½ tsp
Fenugreek seed – 1 tsp
Asafoetida – 1 tsp
Dry red chilli – 3 nos
Oil – 1 or 2 tsp
Salt – 1 or 2 tsp
Method
First cut and clean the ladies finger set aside
Then wash the toor dal and set aside
Take a pan add toor dal,water,onion,green chilli,turmeric powder.salt,and oil mix and cook them
well.
Take a small bowl add tamarind and water squeeze them well and drain set aside.
After we take another pan and add tamarind extract and sufficient amount of water .
Then add asafoetida ,ladies finger and tomato cook then well ,remove from fire and set aside.
Now we have to mix first pan mixture into the second pan cooked mixture and cook the sambar for
2 to 3 minutes and set aside.
Heat oil in another pan add mustard seed and fenugreek seed ,lets cracled.
Add dry red chillies,curry leaves,red chilli powder and coriander powder ,saute them well and add it
into the sambar pan and mix it well.
Then add some salt and water mix them well and cook for 5 to 7 minutes .
Remove from fire and set aside.