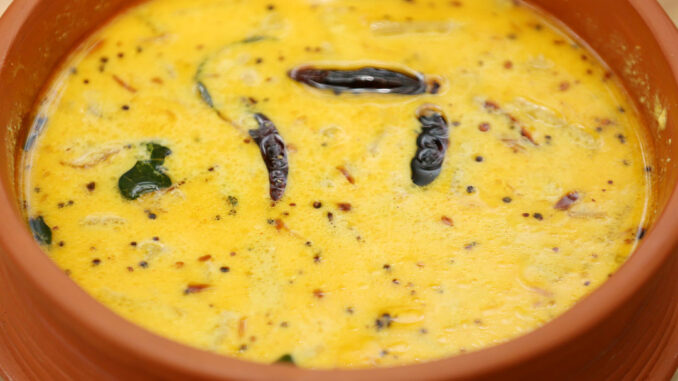 Ingredients
Cucumber – 1 no.
Green chilis -2 nos.
Turmeric powder – 1/2 teaspoon.
Chili powder – 1 teaspoon.
Coconut – 1 no.
Cumin – 1 teaspoon.
Dried chili – 2 nos.
Shallots – 14 nos.
Garlic – 2 nos.
Ginger – small piece.
Curd – 1 l.
Fenugreek – 1/2 teaspoon.
Salt.
Oil.
Mustard.
Curry leaves.
Method
Clean and cut a cucumber into small pieces. Add green chilies, turmeric powder, chili powder, curry leaves, and salt and keep for cooking.
Make a paste of grated coconut, dried chilies, shallots, garlic.
Beat the curd to remove lumps. Mix in the paste to the curd and beat. Add the curd mix to the cooked cucumber and adjust salt.
Heat oil in another pan, splutter mustard. Add sliced ginger, shallots, Dried chilis, fenugreek seed, and curry leaves. Add the mix to the cucumber curry.
Cucumber curd curry is ready.