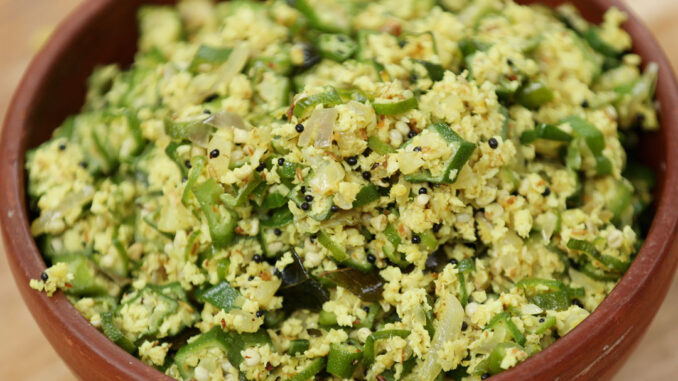 Ingredients
Ladyfinger – 500 gms.
Onion – 1 no.
Coconut – 1 no.
Cumin – 1/2 teaspoon.
Garlic – 1 no.
Shallots – 10 nos.
Dried chili – 2 nos.
Green chili – 3 nos.
Turmeric powder – 1/2 teaspoon.
Oil.
Mustard.
Salt.
Curry leaves.
Method
Cut the ladyfinger in circles. Finely chop onion and green chilies.
 Make a rough paste with grated coconut, cumin, garlic, and shallots.
Heat oil in a pan, splutter mustard. Saute in the onion, green chilies, curry leaves, and ladyfinger. Add the paste, mix well. Saute in turmeric powder, salt. and close the pan and cook. Remove from the flame when cooked.
Tasty lady finger thoran ready.