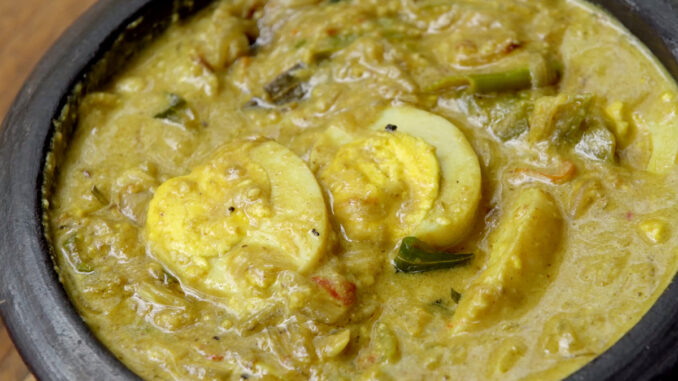 INGREDIENTS
6 eggs , hard boiled
2 onions large , sliced thin
2 tomatoes large , chopped
2 – 3 green chillies , slit lengthwise
1/2 tsp ginger paste
1/2 tsp garlic paste
1/2 tsp turmeric powder
3 pods cardamom
4 cloves
2 cinnamon small sticks
2 bay leaves
4 – 5 tbsps ghee
1 coconut thick milk from
1 sprig curry leaves
3 tbsps coriander chopped
salt to taste salt
METHOD 
Cut each egg in half. Heat the ghee in a pan and place the eggs with cut side face down. Shallow fry the egg halves, gently turning over, till golden brown. Remove from pan and keep aside.
To the remaining ghee, add the bay leaves, cardamom, cloves and cinnamom and stir a couple of times. Add the green chillies, stir and now add the sliced onions. Saute till soft and golden in colour. Add the ginger and garlic pastes and saute till the ghee separates.
Add the turmeric powder, curry leaves and tomatoes and allow to cook well.
When done add the coconut milk, 2 tbsp coriander leaves, salt and mix. Just bring to a boil and take off the heat immediately. If you allow the curry to boil after adding coconut milk, it will split.
The consistency of the coconut milk gravy should be thick and sauce-like rather than watery.
To serve, place the shallow fried egg halves in a serving dish and pour the coconut milk curry over this. Garnish with remaining 1 tbsp coriander leaves.
Serve hot.