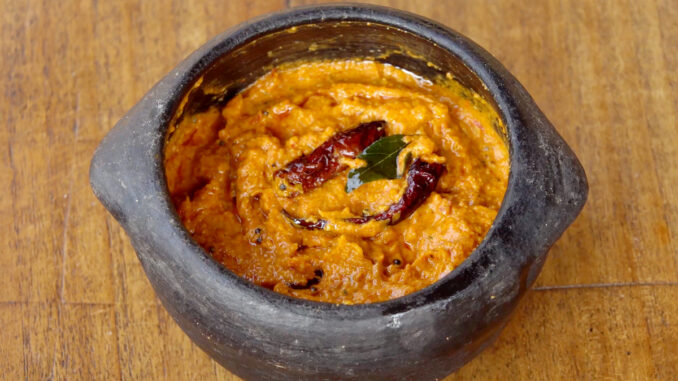 INGREDIENTS
Ginger – 250 g (peeled and finely grated)
Tamarind – lemon sized ball (soaked in 1 cup water)
Fenugreek seeds – 2 tsp (Dry roasted and grind to make a powder)
Coconut oil – 2 tbsp
Mustard seeds – 1 tsp
Dry red chilies – 2-3
Heeng – ¼ tsp
Curry leaves – 10-12
Turmeric powder – ½ tsp
Jaggery – ½ cup
Salt to taste
METHOD 
Heat coconut oil in a pan.
Once the oil is hot, add mustard seeds, dry red chilies, heeng and curry leaves and fry for a few seconds.
Add grated ginger and fry till slightly browned.
Keep stirring all the time.
Squeeze the tamarind and add the water in the pan.
Add turmeric powder, jaggery and salt and cook for 3-4 minutes.
Add fenugreek powder and cook for another 2 minutes.
Store it in a clean glass container in refrigerator for a few weeks.