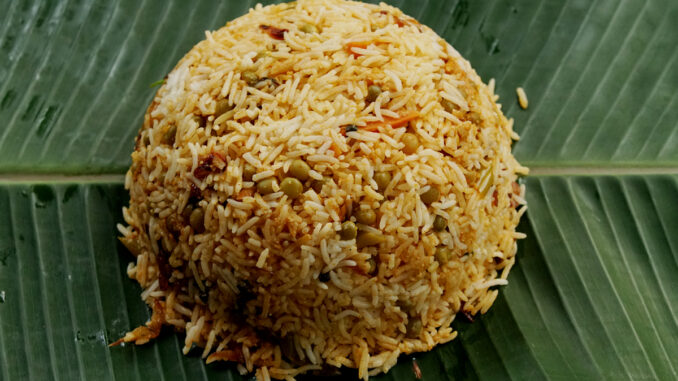 Ingredients
Basmati rice -1 kg
Ginger-1 medium
Garlic-5 or 6
Cashew nut-250 gm
Raisins-250 gm
Onion-2 medium
Fennel seed-1 tsp
Cardamom-3 or4 nos
Cinnamon-1 medium
Star anise -4 or5
Cumin seed-1 tsp
Green chilli-4 or 5
Chilli powder-2 tsp
Coriander powder-1 tbsp
Tomato-1 medium
Garammasala-1 tsp
Curd-2 tbsp
Potato-2
Carrot-2
Green beans- 10or 12
Green peace -250 gm
Pepper –small amount
Lemon juice- half
Ghee-4or 5 tsp
Oil- for cooking
Salt to taste
Method
First we soak rice at least 10 to 12 minute
Then we soak green piece into 1ominutes
Heat ghee in a panadd cashew nut and raisins saute well till they turns golden brown
Again we heat ghee in a pan fry the sliced onion till golden brown
Then we crush ginger and garlic and keep it in a side
Grind cashew nut into to smooth paste and keep it into a side.
Heat oil ina pan add fennal seed,cardamom,cinnamon,star anise,cumin seed mix
well
Add onion ,green chilli and ginger garlic paste saute well
Again we add chilli powder,coriander powder ,garam masala,tomato and curdmix
well and cook
Then we add vegetables like potato, carrot, green beans green piece ,cashew nut
paste and water mix well and cook for 10 to 12 minutes.
Take water in apan add cinnamon,cloves. star anise , pepper and cardamom and
mix well
Then we add basimati rice ,lemon juice,and ghee. Cookwell and drain excess water.
Take a heavy bottom pan add one spoon of ghee and basmathi rice
Again we add vegitable mix ,spread half of the rice in the top of vegitable
Add vegetable mix and rice
Ln the topof the biriyani add fried onion,cashew nut,rasins,copriander leaf and mind
leaf
Turn off the flame and serve the kerala style vegitable biriyani
Enjoy the taste.