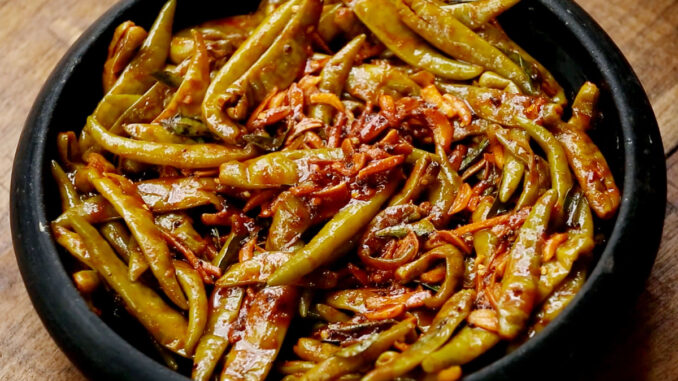 Ingredients
Green chilli-1/2 kg
Salt-2 tbsp
Vinegar-1 tbsp
Mustard seed-1 tbsp
Ginger-2 or 3 medium
Garlic-13 to 14 petals
Curry leaves – 2 sprigs
Turmeric powder-1 /4tbsp
Chillipowder-1 tbsp
Asafoetida -1/2 tsp
Water -1/2 cup
Method
First we wash and remove the head of chillies.
Then we take a pan add ½ cup of water ,salt and vinegar mix well.
Then we add green chilli ,saute for some minutes till the colour changed,and keep a side
Then we heat oil in a another pan add mustard seed, Once they start to splutter, reduce to a
low flame
Add garlic ,ginger and curry leaves ,saute for some minutes .
Again we add powders like turmeric powder ,chilli powder and asafoetida powder, mix and
saute for some minutes
Then we add small amount of water and mix it well.
Finally we add cooked green chilli in to the pan ,mix well and cook for 5 to 10 minutes.
Turn off the flame and serve with meals
Enjoy the taste of kerala style green chilli pickle.