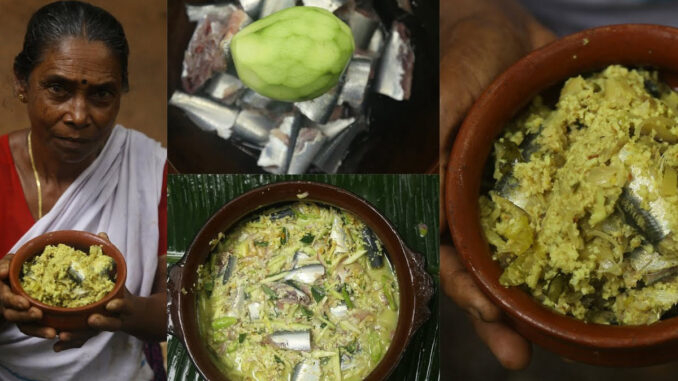 Ingredients
*Sardines – 1/2 kg.
*Tangy mango – 2 pieces.
*Shredded coconut – 1/2 portion.
*Ginger – 8 pieces.
*Galic – 8 cloves.
*Green chilies – 4 nos.
*Bird's eye chilies – as per spice.
*Onions – 2.
*Shallots – 8
*Turmeric powder – 1 teaspoon.
*Fenugreek powder.
*Salt to taste.
*Oil
*Curry leaves.
Method
1) Cut the cleaned fish into small pieces. To the fish add chopped mango, ginger, onions, chilies, turmeric powder(1/2 teaspoon), curry leaves, and salt to taste.
2) Mix in fenugreek powder and oil.
3) Make a paste of shredded coconut, bird's eye chilies, turmeric(1/2 teaspoon), shallots, garlic, and curry leaves. Add the paste to the fish.
4) Add water and keep the fish mix on stove and cook.
Tasty tangy fish with shredded coconut is ready!