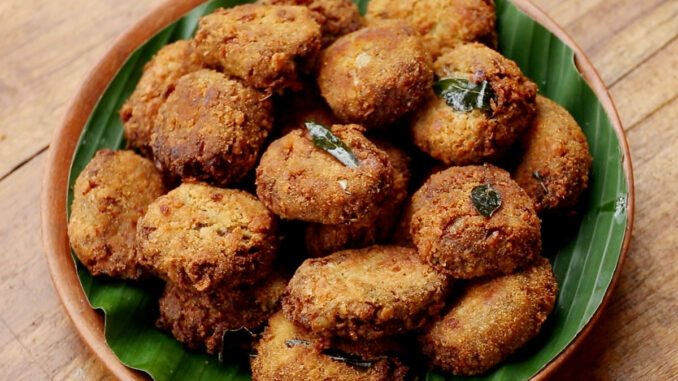 Ingredients
Chicken -1/2 kg
Potato-4 nos
Bread-5 slice
Egg-3 nos
Milk-1/2 cup
Ginger-1 medium
Garlic-7 to 8 nos
Green chilli-3 nos
Onion-2 nos
Curry leaves-2 sprigs
Turmeric powder-1/2 tbsp
Pepper powder-1 tbsp
Garam masala-1 tbsp
Oil-1ltr
Salt to taste
Water-for cooking
Method
First we boil four potatoes and then peel and smashed them, then keep a side.
Then we wash and clean the chicken
Then we take a heavy bottom mud pot add chicken ,salt, turmeric powder ,pepper powder and
little amount of water .
Then stir it and cover it with a lid and cook for a while.
Then we crush the bread into fine powder,then transfer a bowl.
Again we crush the ginger and garlic and keep a side.
Then we crush the boiled chicken ,and keep a side
Then we take a pan add oil ,when the oil is hot we add crush ginger ,garlic and green chilli,
saute well.
Add sliced onion, curry leaves and salt, saute for some minutes.
Again we add powders like pepper powder , garam masala and turmeric powder, mix well and
saute for some minutes.
Add crushed chicken and smashed potato into the pan,mix it well.and keep a side
After it cools down ,mix and compain all ingredients together like a dough. keep it to one side.
Now we take milk in a bowl and add three egg whites in it and beat well. keep a side.
Divide the chicken mixture into equal lemon sized balls and shape each of them into a cutlet.
Then dip the cutlets in beaten egg and milk mixture and coat it with bread crumbs.
Heat oil in a deep pan over medium flame and fry the cutlets until crisp and golden brown.
Take them out from oil and place on a tissue paper.
And serve the kerala style tasty chicken cutlet with tea
Enjoy the taste of each bites..