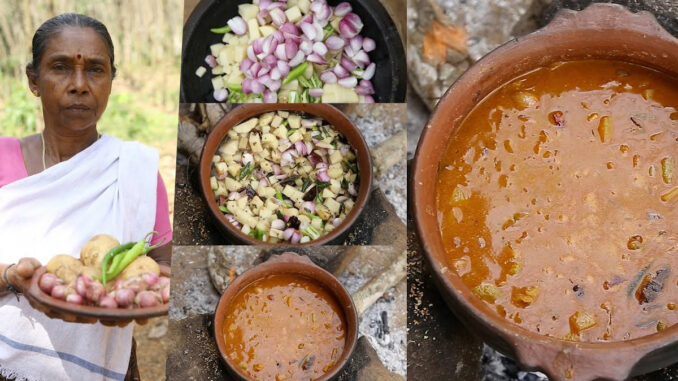 *Potato – 4-5 nos.
*Shallots  – 10 – 15 nos.
*Green chilies – 2 – 3 nos.
*Grated coconut – 1 cup.
*Coconut oil – 7 tablespoons.
*Chili powder – 2tablespoon.
*Coriander powder – 2tablespoon.
*Mustard – 1 tablespoon.
*Dried chilies – 2 nos.
*Curry leaves – 2 stems.
*Cumin – 1 tablespoon.
*Cinnamon – 1 small piece.
*Water – 1 cup.
*Salt to taste.
Method
1 Peel, clean and cut potato and shallots.
2 In a wok, fry grated coconut with little coconut oil.
3 To the fried coconut add cumin and cinnamon. Grind it to a fine paste without water.
4 Keep a pot on the fire, heat oil and splutter mustard.
5 Saute in shallots, dried chilies, and curry leaves till it is sauteed well.
6 Saute in the sliced potato, green chilies, and shallots.
7 Saute in chili powder, coriander powder, and water. Season with salt and cover and cook.
8 When potatoes are cooked mix in the prepared paste masala.
9 When the potatoes are cooked mash a few pieces of potato to get thickness for the gravy. Remove from the flame.