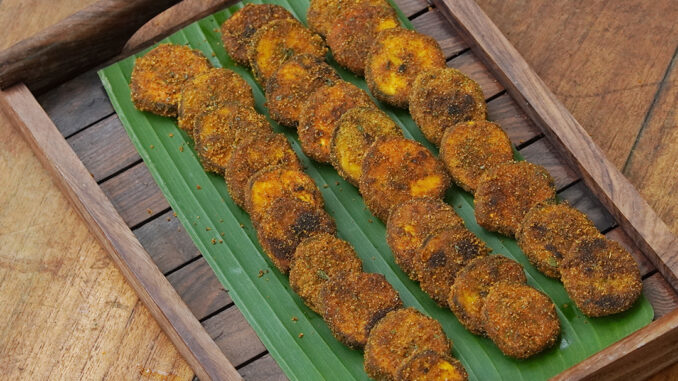 Ingredients
Raw banana – 4 nos
Curry leaves – 4 or 5 sprigs
Red chilli powder -11/2 tsp
Coriander powder -1 ½ tsp
Garam masala – ½ tsp
Turmeric powder – ½ tsp
Rice flour – 3 tbsp
Gram flour – 3 tbsp
Salt – 1 or 2 tsp
Oil – 2 or 3 tbsp
Method
Firstly ,peel and cut the banana into round thin slices ,then wash and set aside.
Take a pan add sliced banana pieces ,turmeric powder ,salt and water mix well and cook for 6 to 7
minutes.
Drain them well and set aside.
Again we take another pan add curry leaves and fry them well.
Then grind the curry leaves into fine powder and keep aside.
Take a bowl add powdered curry leaves,salt,red chilli powder,coriander powder,garam masala,rice
flour and gram flour combined them well.
Then add cooked raw banana slices ,mix . and coated the masala mixture evenly all over the slices.
Then take the banana slices in a plate.
Heat oil in a pan and place the banana masala slices .
Fry them well till they become light brown.
The one slide is ready turn over and fry the other side .
Removed the fried raw banana slices and place them on a plate.
Serve and enjoy the raw banana fry with meals..