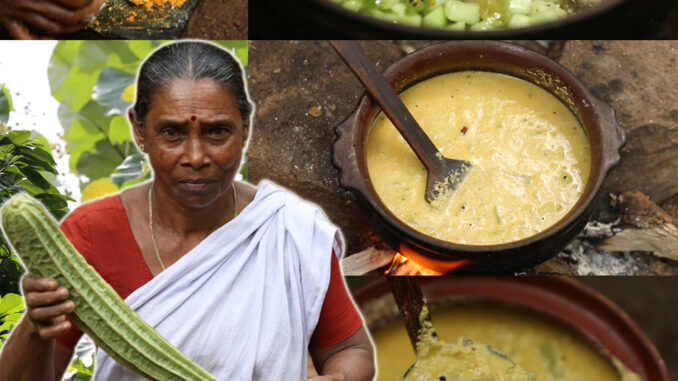 Ingredients
Ridge gourd – 2 ( pealed and cut into small julienne)
Shallots – 10
Green chili – 3 (sliced)
Garlic – 5
Dry red chili – 3
Cumin seed – ½ tsp
Mustard seeds – ½ tsp
Coconut – 1 (Grated)
Turmeric powder – ¼ tsp
Coconut oil – 50 ml
Salt for taste
Water as required
Method
Firstly, grind the dry red chili and turmeric powder, then add the grated coconut and
grind it finely, now add cumin seed, garlic, Shallots and grind them all together. Mix
all the ingredients and keep it aside.
 In a pan heat the coconut oil and add mustard seeds, then add the sliced Shallots
and green chili, stir it and add dry red chili. Now into it add the ridge gourd. Mix all
the ingredients and add salt for taste. Add adequate water and cover the pan with a
lid and wait until ridge gourd is half cooked.
 Now add the previously prepared coconut paste and mix it well.
 Add water and salt as required and wait till the ridge gourd is fully cooked.
 Now remove the pan from the flame and the ridge gourd curry is ready to be served.