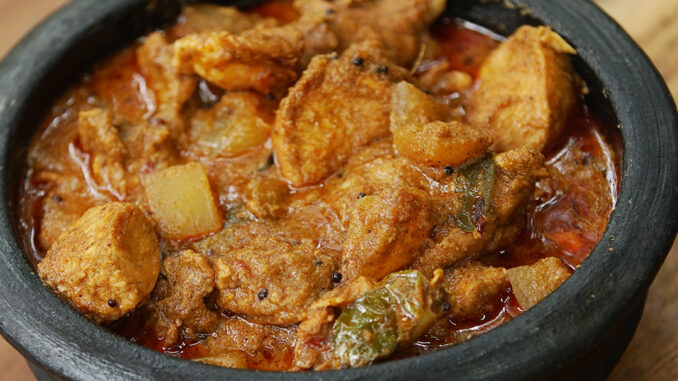 Ingredients
Chicken – 1 kg
Ash gourd – 1 medium
Dry red chilli – 4 nos
Shallots – 2 nos
Grated coconut – 1 cup
Ginger – 1 medium
Curry leaves – 3 sprigs
Green chilli – 3 nos
Coriander seed – 1 tbsp
Fennel seed – 1 tbsp
Cloves- 3 nos
Cardamom – 3 nos
Cinnamon – 1 nos
Turmeric powder – 1 tsp
Red chilli powder – 1 tbsp
Mustard seed – 1 tsp
Salt – to taste
Method
First we have to peel the ash gourd outer cover and set a side
Heat oil in a pan add dry red chilli and roast it well and set a side.
Then we use the same pan .add grated coconut, coriander seed and ginger ,saute for some minutes.
Then add fennel seed, cloves ,cardamom and cinnamon saute well and set aside.
First we grind the roasted dry red chilli ,then add sauted grated coconut mix into fine paste and set
aside
Heat a pan add fresh chicken pieces ,salt and turmeric powder saute well.
Then we have to add grated coconut paste ,water and curry leaves mix well,then cover and cook for
9 to 10 minutes.
Then we have to add ash gourd pieces and cook well.
Heat oil in a pan add mustard seed ,let crackled .
Add shallots ,green chilli ,curry leaves and red chilli powder. Saute well
Then add the frying mixture into the chicken curry pan and mix well.
Remove from fire and set aside.
Serve and enjoy the tasty ash gourd chicken curry ..