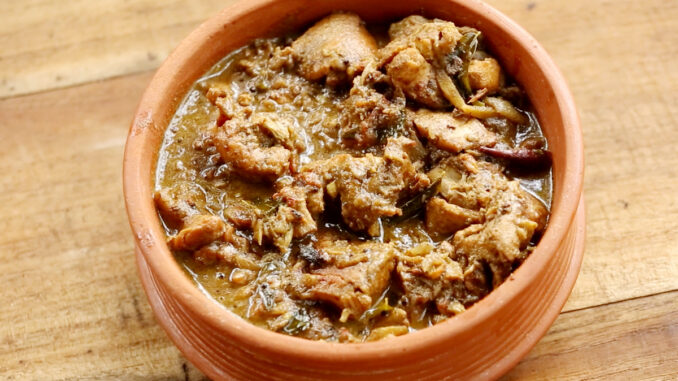 Ingredients 
Shallots
Garlic
Onion
Ginger
Green chilly
Turmeric powder
Chicken- 2kg
Tomato
Coconut
Fennel seeds
Cinnamon
Cardamom
Clove
Coriander powder
Curry leaves
Oil
Pepper powder
( All ingredients as needed)
Method
Keep the chopped Shallots, garlic, onion, green chilly and tomato aside.
Clean the Chicken with water and turmeric powder.
Prepare freshly squeezed semi thick coconut milk (2nd extract) and thick coconut milk (1st extract) and then keep aside.
Grind fennel seeds, cloves, Cardamom and Cinnamon, keep aside.
Heat the pan with cocunut oil, add two dried red chilly in it. Saute the onion, ginger- garlic, green chilly, salt, turmeric powder and curry leaves till it changes the colour. Add tomato into it.
Add Coriander powder, grinded fennel seeds, clove, cardomom, cinnamon, pepper powder in to it. Add chicken into it. Now mix it until it is well coated with masala. Now reduce the fire to low and add semi thick coconut milk, cover until the chicken is almost cooked. Once the gravy is reduced add thick coconut milk and gently stir, cover until the chicken is fully cooked.
Chikken Mappas ready!!