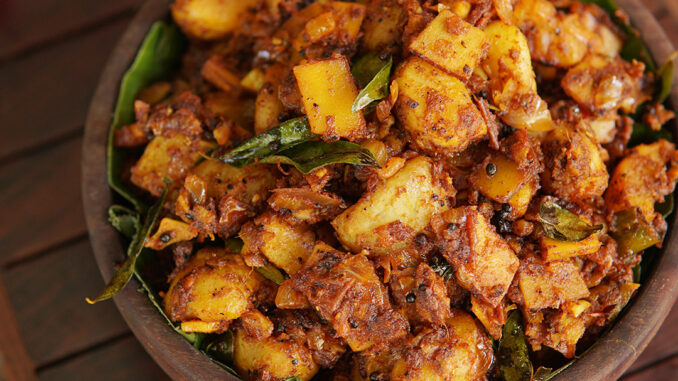 Ingredients
Chinese potato – 1 kg
Onion – 3 nos
Tomato – 2 nos
Green chilli – 3 nos
Chilli powder – 11/2 tbsp
Coriander powder – 1 tbsp
Turmeric powder – ½ tbsp.
Garam masala – 1 tbsp
Pepper powder – 1 ½ tbsp.
Coconut slices – ½ cup
Mustard seed – 1 tsp
Salt – 1 or 2 tsp
Method
Firstly ,wash and scrape the skin of the Chinese potatoes ,then cut into small pieces.
Then cook sufficient amount of water ,Chinese potato and salt , stir well and cover and cook until
they become soften .
Heat oil in a pan add of mustard seed ,once they crackled.
Add coconut slices ,chopped onions,3greenchilliand salt ,saute it well till they turns light golden
colour .
Add curry powders like chilli powder, coriander powder, turmeric powder, garam masala and pepper
powder ,saute them well.
Then add chopped tomatoes and saute them well then cover and cook till the tomatoes become
soften .
Now add cooked chines potatoes and salt ,mix and fry them well .
Finally sprinkle some pepper powder for good aromatic taste.
Remove from fire and set a side.
Serve and enjoy the tasty chines potato fry with meals.