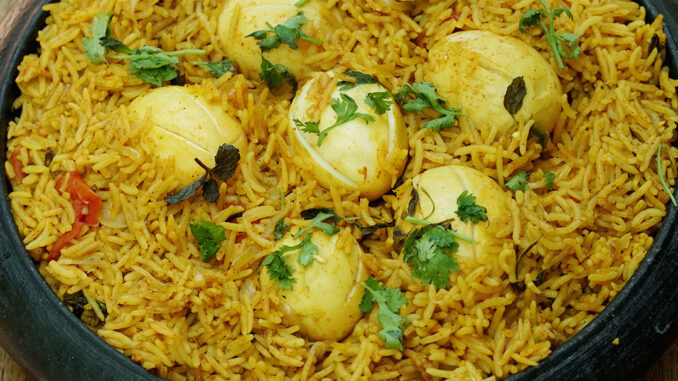 Ingredients
Basmati rice – 2 kg
Egg -7 nos
Onion – 6 nos
Shallots- 7 to 8 nos
Tomato – 3 nos
Green chilli – 4 or 5 nos
Ginger – 1 medium
Garlic – 7 to 8 nos
Cloves – 3 nos
Cardamom – 2 nos
Cinnamon – 1 smal
Bay leaves – 2 nos
Chilli powder – 2 tbsp
Coriander powder – 1tbsp
Masala powder – ½ tbsp.
Garam masala – 1 tbsp
Turmeric powder – ½ tbsp.
Mind leaves – small amount
Coriander leaves – small amount
Ghee – 2 tbsp
Salt to taste
Method
 First we boiled the eggs and remove the shells and rinse them , set a side
 Then we wash and soak the rice for 10 to 15 minutes.drain excess water and set a side.
 Grind the shallots, green chilli, ginger ,garlic into fine paste and keep a side.
 Heat ghee in a heavy bottam pan and add cloves,cardamom ,cinnamon, and bay leaves and
saute for some minutes.
 Then we add chopped onion and salt mix and saute for few minutes.
 Again we add grind mix of shallots green chilli etc, saute them well.
 Now we add curry powders like chilli powder,coriander powder,masala powder,garam
masala and turmeric powder ,combine it well.
 Add chopped tomato in to the pan and cook for some minutes.