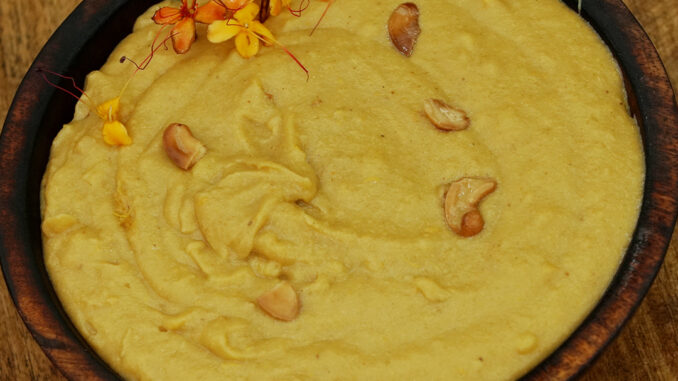 Ingredients
Ashoka flower-2 kg
Grated coconut-1 cup
Rice flour-1/2 kg
Jaggery water – 1 cup
Cashew nut – 250 grm
Ghee-2 or3 tbsp
Method
 First we wash and clean the ashoka flower
 Then we grind the ashoka flower into fine paste and set a side.
 Again we take a grated coconut in a pan and add water and mix well with hands ,then
we drain and get thick coconut milk and set aside.
 Again we take rice flour in a bowl and add water and mix well it become thin paste
of rice powder mix ,and keep a side
 Heat ghee in a heavy bottom pan and add cashew nut and fry it well and set aside
 Again we add grinded ashoka flower paste ,jaggery water and cook on low heat
continuously mixing
 Then we add rice flour mix paste and coconut milk mix it well
 Ones it starts thickening, add fried cashew nut and mix well and keep stirring till the
recipe starts leaving the pan.000 Remove from heat and set aside
 Serve and enjoy the healthy recipe.
0