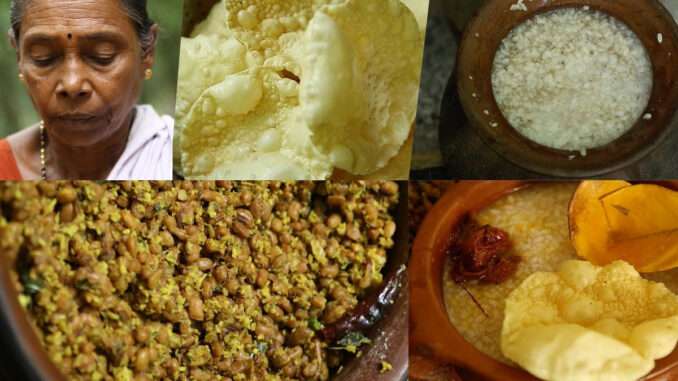 Ingredients
*Rice.
*Coconut oil.
*Pappadam.
*Lentil.
*Grated coconut.
*Shallots.
*Garlic.
*Cumin.
*Green chilies.
*Turmeric powder.
*Curry leaves.
*Dried chilies.
Method
1)Clean the rice well. Heat water when the water comes to a boil add rice. When the rice is cooked add salt and remove it from the flame.
2)Boil water in another pot. Once the water comes to boil add in the cleaned lentil and salt. Cover and cook.
3)Crush grated coconut, shallots, garlic, green chilies, cumin, curry leaves, and turmeric powder.
4)When the lentil is cooked add the crushed mixture, remove it from the flame.
5)Heat a pan with oil, splutter mustard. Saute in shallots, dried chilies, and curry leaves. Saute in the cooked lentil.
6)Heat oil and fry the papad.
7)Serve the kanji payar and papad hot.