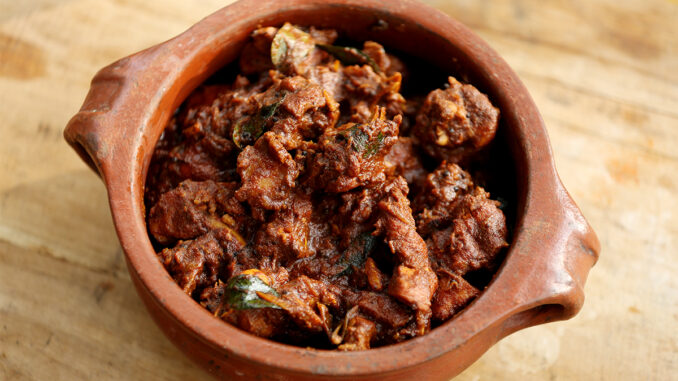 Ingredients
Chicken – 1kg
Mustard seed – ½ tsp
Dry red chilli – 3 or 4 nos
Onion – 2 medium
Pearl onion – 6 or 7
Ginger – 1 medium
Garlic 7 or 8 petals
Green chilli-3 or 4
Curry leaves-3 or 4 sprig
Tomato 2 medium
Turmeric powder – ½ tsp
Coriander powder – 2 tbsp
Black pepper powder-1 tsp
Cinnamon-1medium
Clove 2 or 3
Cardamom -3 nos
Fennel seed ½ tsp
Dilute coconut milk – ½ cup
Thick coconut milk -1/2 cup
Salt –to taste
Oil – 3 or 4 tbsp
Method
 First we prepare garam masala (cardamom,cinnamon,cloves,fennel seed,)
grind well and keep it in a side.
 Heat oil in a pan and splutter mustard seeds,dry red chilli
 Add pearl onion, onion, ginger ,garlic, green chillies and curry leaves.
 Add tomato and salt to taste, Saute it till the onion and tomato becomes soft
 Then we add turmeric powder,garam masala paste ,coriander powder and
black pepper powder mix well and saute well
 Now add the chicken along with the diluted coconut milk.
 Cover and cook for 10 mins until the oil appears on top.
 Then we add thick coconut milk and mix well
 Turn off the flame and serve kerala chicken mappas with appam .
 Enjoy the taste ….