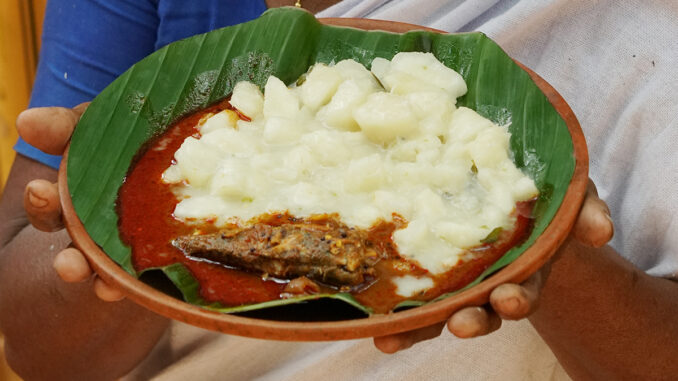 Ingredients for mackerel curry
Fish -1 kg
Tamarind-3 or 4 nos
Turmeric -1/2 tsp
Mustard seed -1/ tp
Shallots-6 or 7 nos
Ginger -1 medium
Garlic 5 or 6 nos
Fenugreek seed -1/2 tsp
Fenugreek powder -1/2 tsp
Curry leaves =3 sprig
Chilli powder-[2 tbsp
Coriander powder-1 tbsp
Black pepper powder—1 tbsp
Salt to taste
Oil-4 or tbsp.
Tapioca coconut milk ingredients
Tapioca-1 kg
Birds eye chilli-10 to 13 nos
Garlic- 4or 5 petals
Curry leaves- 3 or 4 sprigs
Dilute coconut milk-1/2 cup
Thick coconut milk-1/2 cup
Water – to cook
Salt – to taste
Method
For mackerel curry
 First we Clean and cut the fish
 Take fish in a pan add salt turmeric ,tamarind ,curry leaves and oil ,mix well
and marinated 10 to 15 minutes
 Heat oil in a pan add mustard seed once it crackled ,add
shallots,ginger,garlic,fenugreek seed and curry leaves mix well
 Add chilli powder,coriander powder, and tomao mix well and cook for some
minutes till the tomato turns soft
 Then we add fenugreek powder ,black pepper powder mix well
 Now add in the marinated fish and water ,Cook for 10 to 15 minutes .
 Turn off the flame and serve with tapioca coconut milk recipe
Method for tapioca coconut milk recipea
 First we Peel off the skin from the tapioca, cut into cubes, wash under running
water.
 Boil the tapiocas along with water and little salt until it turns tender and well
cooked.
 Drain the water and keep aside.
 Then we grind birds eye chilli and garlic ,keep it in a side
 Again we add the salt and curry leaves into the grinded chilli bowl
 Take a pan add diluted coconut milk and grinded chilli mix well
 Then we add cooked tapioca mix well and cook for some minutes
 Now finally we add thick coconut milk and stir well and turn of the flame
 Serve the tapioca recipe into the fish curry
 Enjoy the traditional taste.