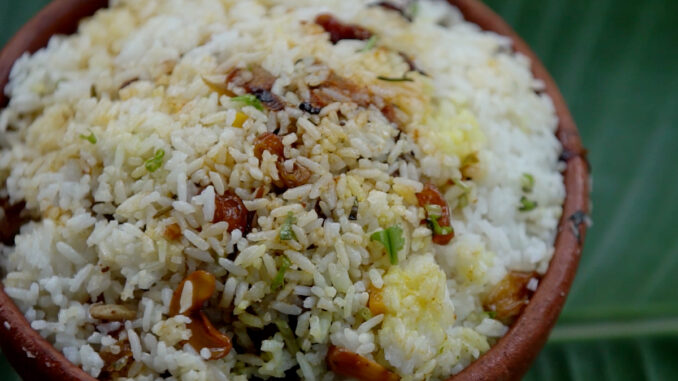 Ingredients
Fish -1kg
Basmati rice -1 kg
Pepper -2 tbsp
Ginger 2` medium
Garlic- 10 or 11 medium
Green chilli-4or 5
Lemon juice -1
Red chilli powder-2 tbsp
Turmeric -1 or 2 tbsp
Corn flour-1 tsp
Vinegar-1 tbsp
Shallots- 4 or 5 nos
Tomato-2 nos
Biryani masala -1 tbsp
Garam masala -1 ¼ spoon
Curd -1 tbsp
Cashew -250 ghrm
Raisins-250 grm
Cardamom-2 pods
Cinnamon-1
Cloves-2 or 3
Star anise-2
Coriander leaves-small amount
Mind leaves-small amount
Carrot-1 nos
milk -2 tbsp
Ghee -2 tbsp
Oil for frying
Water –for cooking
Salt to taste
Method
 First we crush the pepper and keep a side
 Then we grind separately ginger ,garlic and green chilli and keep it in bowl.
 Take a big bowl  marinade by mixing red chilli powder, pepper powder ,garam
masala, turmeric, 1 tsp of ginger,garlic ,green chilli, 1 tbsp of lemon juice, corn flour
and vinegar . Add fish and coat evenly with the marinade 10 to 20 minutes.
 Heat oil in a pan. Add onion and fry till they are golden brown.
 Then we heat oil in a another pan and add marinated fish and fry, and keep it in
aside
 Heat oil in a big pan add onion and salt, sauted well
 Then we add1 tsp turmeric powder,2 tsp of pepper powder,green chilli paste, garlic
paste and garlic paste mix well and sauted well,
 Then we add tomato cook well till they turns soft,
 Now we add 1tsp of biriyani masala ,1 tsp of garam masala,1tsp of lime juice,2
spoons of curd and mix well
 Then we add small pieces of fish and and 1 cup of water ,cover and cook well.
 Then we add 1 tsp of ghee and small amount of fried onion,mix well
 Again we add fried fish and mix slowly and transfer in a bowl.
 Take ghee in a pan add cashew and raisins saute well till the turn light brown and
keep a side.
 Rinse and soak basmati rice for 20 mins. Drain and reserve.
 Take a big heavy bottom pan add ghee,cardamom,cinnamon,cloves and star anise
mix well
 Then we add shallots ,carrots,salt and 2 cup of water.
 Then we add basmati rice and some water for rice cooking
 Take a big bottom pan to serve, put the fish layer masala at the bottom of the dish,
cover with the rice and sprinkle some fried onion, cashew nut ,raisins, coriander leaf
and mind leaf, again we make a same layer at the top …
 Sprinkle some turmeric milk in to the fish biryani.
 Serve the kerala fish biryani recipe and enjoy the taste..