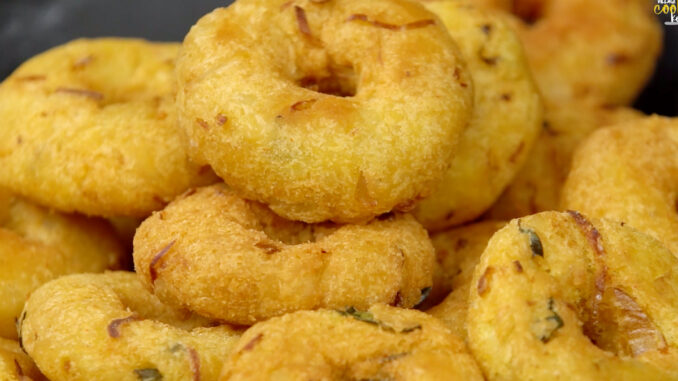 Ingredients
Tapioca -1kg
Onion-2 medium
Ginger-1 medium
Green chilli – 2 or 3
Curry leaves -2 sprigs
Rice flour-1/2 cup
Basan flour -1/2 cup
Chilli powder-1 tsp
Turmeric powder-1/2 tsp
Salt –to taste
Oil-for frying
Method
 First we clean the tapioca and cut into small pieces
 Then we take a large heavy bottom pan add water , tapioca and salt ,cook
well
 Ones the tapioca is cooked removed the excess water ,and mash well with
spoon or fork
 Then we add onion,ginger,green chilli and curry leaves mix well
 Again we add powders like rice flour,basan flour,chilli powder,turmeric powder
and salt mix well and keep a side for 20 or 30 minutes
 Wet hands with water and take some of the tapioca mixture into your hands.
Roll into a ball and flatten slightly between your palms. Place onto a plate .
Repeat for the remainder of the mixture
 Heat enough oil for a large pan .fry them in hot oil till they are golden brown .
Drain them in paper towel.
 Then we serve crispy snake gourd ring into hot tea or coffee
 Enjoy the new variety taste ..