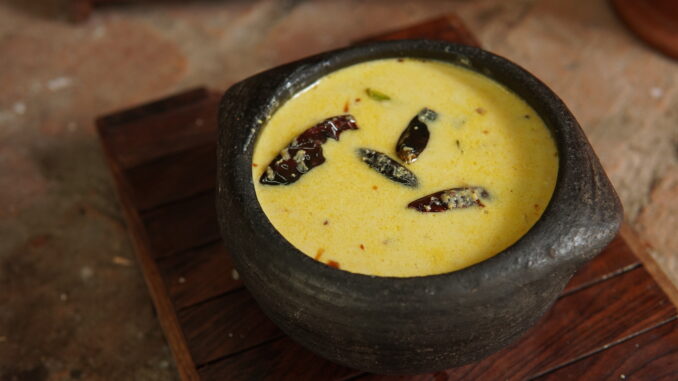 Ingredients
Curd – 2 cup
Dry red chilli – 3 or 4 nos
Grated coconut – 1 cup
Shallots – 7 or 8 nos
Garlic – 4 or 5 nos
Green chilli – 3 nos
Ginger – 1 nos
Turmeric powder – 1 tsp
Cumin seed – 1 tsp
Mustard seed – 1 tsp
Fenugreek seed – 1 tsp
Salt – 1 or 2 tsp
Oil – 3 or 4 tbsp
Method
Firstly we have to grind dry red chilli ,garated coconut ,turmeric powder,shallots cumin seed and
garlic into fine past and set aside.
Then take a bowl add fresh curd and beated them well and set aside.
Heat oil in a pan add mustard seed and fenugreek seed ,let them crackled.
Add chopped ginger,dry red chilli and green chilli saute them well.,
Then add grinded fine paste and little amount of water mix them well.
Again add beated curd and salt mix them well and boil for 2 to 3 minutes.
Remove from fire and set aside.
Serve and enjoy moru curry with meals.