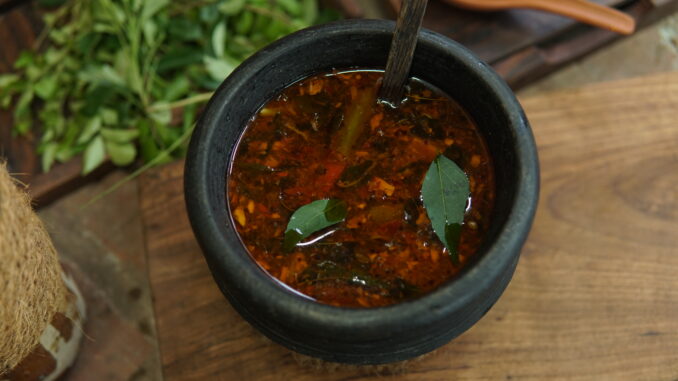 Ingredients
Tomato – 1 nos
Dry red chilli – 4 nos
Ginger – 1 nos
Garlic – 6 or 7 nos
Curry leaves – 3 sprigs
Green chilli – 2 nos
Coriander seed – 1 tbsp
Black pepper – 1 tbsp
Cumin seed – 1 tsp
Tamarind – small ball
Asafoetida – 1 small piece
Mustard seed – 1 tsp
Fenugreek seed – 1 tsp
Salt – 1 or 2 tsp
Oil – 1 or 2 tbsp
Method
Firstly ,we have to crush dry red chilli,ginger ,garlic ,coriander seed,black pepper seedand cumin
seed and set aside.
Take a small bowl add tamarind and water squeeze them well and drain set aside.
Heat oil in a an add mustard seed and fenugreek seed ,lets spluttered.
Add asafoetida ,curry leaves and crushed masala like dry red chilli ,ginger garlic etc ,saute them well.
Add green chilli and tomatoes saute them well till they become soft.
Pour tamarind water and mix them well.
Add sufficient quantity of water and salt mix and boil them well.
Remove from fire and set aside.
Serve and enjoy the rasam with meals..