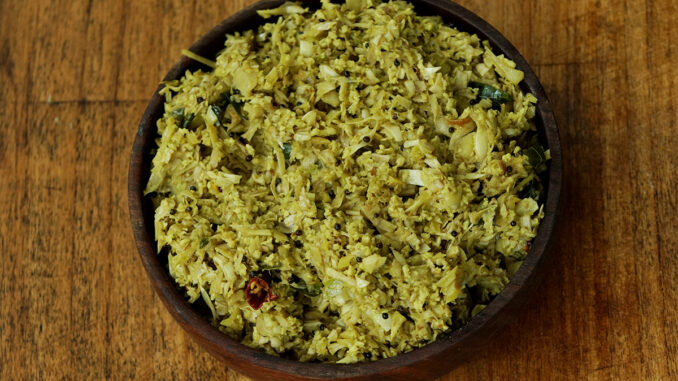 Ingredients
Tender jackfruit -1/2 kg
Shallots-8 or 9 nos
Green chilli-3 nos
Ginger -1 medium
Garlic-6 or 7 nos
Tomato -1
Curry leaves-3 sprigs
Meat masala-1 tbsp
Coriander powder-1 ½ tbsp.
Chilli powder-1 tbsp
Turmeric powder -1 tbsp
Salt –to taste
Oil-for cooking
Method
 First we remove outer thorny green skin and cut the raw jack fruit into half and later
into medium size long pieces then wash and keep a side
 Then we add tender jackfruit ,salt ,turmeric powder and water in a pan, then cover and
cook well.
 Ones the tender jackfruit is well cooked ,remove it from the heat and set aside.
 Heat oil in a pan add cooked tender jackfruit and fry it well and keep aside
 Again we use same pan and add some oil, shallots, green chilli, ginger, garlic
,chopped onion and curry leaves, saute well for some minutes.
 Then we add curry powders like meat masala, coriander powder,red chilli powder,
turmeric powder and salt mix well and saute for some minutes.
 Again we add chopped tomatoes saute well till tomatoes become soften.
 Finally we add fried tender jackfruit and some salt, saute and cook for some minutes.
 Remove from fire and keep a side.
 Serve and enjoy kerala style tender jackfruit curry with meals.