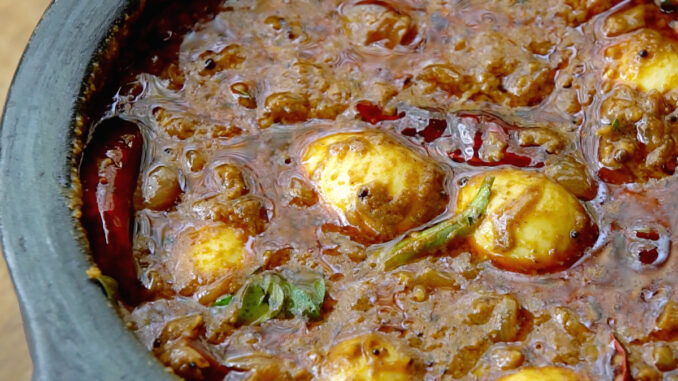 Ingredients
Egg-8 or 9
Grated coconut-1 cup
Shallots-10 or 12 nos
Ginger-1 medium
Garlic-6 or 7
Fennal seed-1 tsp
Cumin seed-1 tsp
Tamarind –small piece
Red chilli powder-1 tsp
Coriander powder-1 tsp
Turmericpowder-1/2 tsp
Green chilli-4 or 5
Curry leaves-3 sprigs
Pepper seed-1 tsp
Mustardseed -1 tsp
Dry red chilli-4 or 5
Salt-to taste
Oil for frying
Method
First we boiled and deshell the eggs.
Then we make the masala for egg theeyal curry. Add coconut, shallot, ginger, garlic,
fennal seed, cumin seed, tamarind, pepper seed and curry leaves into a heavy
bottomed pan and dry roast till the coconut turns dark brown.
Then reduce the flame and add turmeric, red chillipowder and coriander powder. Let
it cook for 1 more minute.
Then we grind the coconut mixture into fine paste and keep a side.
Heat oil in a pan add shallots,green chilli, curry leaves and salt saute well.
Then we add grinded paste and water mix well and add boiled egg
Take oil in another pan add mustard seed ,shallots dry red chilli and curry leaves
saute well till they turns golden brown.
Again we add the shallot fry mixture into the egg theeyal pan and mix well
Turn off the pan and serve the kerala style kaada mutta theeyal.
Enjoy the taste..