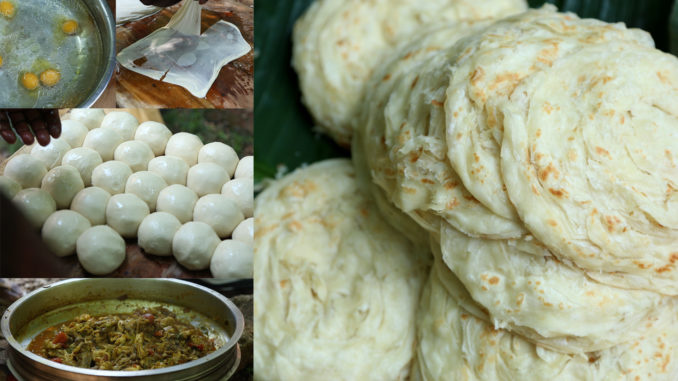 Parrotta
Ingredients
Flour-4kg
Water-15 glass
Salt –to taste
Soda powde-2tsp
Sugar-4tsp
Milk-2glass
Egg-4nos
0il- sunflower oil or palm oil
Method
* We are making kerala parottas with 4kg flour
* Let start…..
* First we take 4 kg flour in a bowl.
* Then we take fifteen glass of water. we should mix it little by little for a better
consistency
* Again we should add soda powder , sugar and salt to taste .mix it well
* Add little amount of sunflower oil or palm oil as per availability.
*After that we add eggs and milk in to the bowl and mix them well.
* Then mix the dough properly until the dough softens.
*After mix everything well and keep it a side for one hour to ferment.
* Then we will have to make small balls out of the doughand keep it covered with the
wet cloths for 10 minutes
* Spead oil on the working surface and on the balls.roll the balls using hands to get
very thin oval shape
* start pressing the ball into slightly thin circle with the help of greased palm.
* take hot tawa and place the rolled paratta.
* After a minute flip off and cook the other side.
* once the golden brown spots start appearing on both sides grease with oil.
* then crush the paratha with hands to form layers.
* serve hot kerala parotta with curry
KERALA chicken curry
Ingredients
Chicken -2kg
Small piece coconut1/2 cup
Onion -2
Pearl onion-10 or 12
Tomato -1
Ginger-1 medium
Garlic- 7 or 8
Green chilli-3 or 4
Cashew nuts-10 or 13
Red chilli powder-3tsp
Coriander powder-21/2 tsp
Turmeric ½ tsp
Curry leaves- 3 or 4
Chicken masala-2tbsp
Salt to taste
Method
First
we cut the onion ,pearl onion and tomato into small pieces Then we cut coconut into small piecesGrind the ginger garlic paste and keep it a side
Then we take a pan and add chilli powder and coriander powder into the pan and heat it well, andkeep a side
Again we take a another pan and add oil in to the panThen we put the coconut pieces and fry it in the oil and keep it a side
After that put mustard seed in the oil ,When it begins to sputter, then we add the curry leavesNow we put the chopped onion ,tomato ,ginger garlic paste and green chillies and mix it well.
Then we put little amount of turmeric powder and mix it well.Now we put the chicken in to the mixture and mix it well.
Again we put the fried coconut pieces ,chilli powder and coriander powder and cook wellWhen the chicken is cooked add the cashew paste and cook for few minutes.Turn off the flame and serve with parrota or rice..