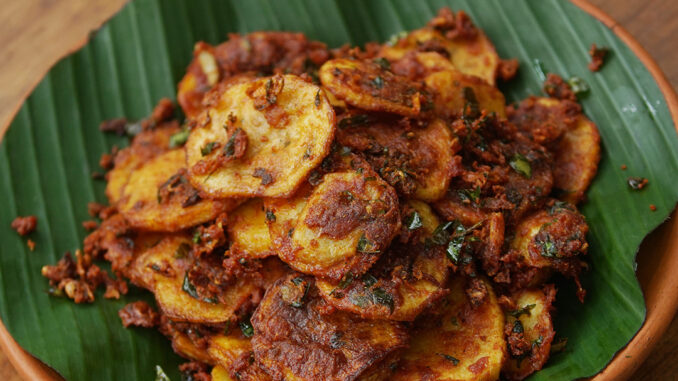 Ingredients
Potatoes – 1 kg
Ginger – 1 medium
Garlic – 5 or 6 no
Coriander leaves – small amound
Curry leaves – 2sprigs
Red chilli powder – 1 tbsp
Garam masala – ½ tbsp.
Coriander powder- 1 tbsp
Corn flour – 2 tbsp
Turmeric powder – 1 tsp
Salt – 1 tbsp
Oil – for frying
Method
Firstly , we have to peel and cut the potatoes into circles.
Then we have to crush ginger and garlic set aside.
Take a bowl add chopped potatoes ,red chilli powder,garam masala,coriander powder,ginger
and garlic paste
Again we add corn flour,salt and turmeric powder mix well.
Then we have to sprinkle some water and mix well ,marinated for 15 to 20 minutes.
Heat oil in a pan add marinated potato pieces and fry till the turn golden brown .
Drain and set aside.
Serve and enjoy the taste of masala fried potatoes.