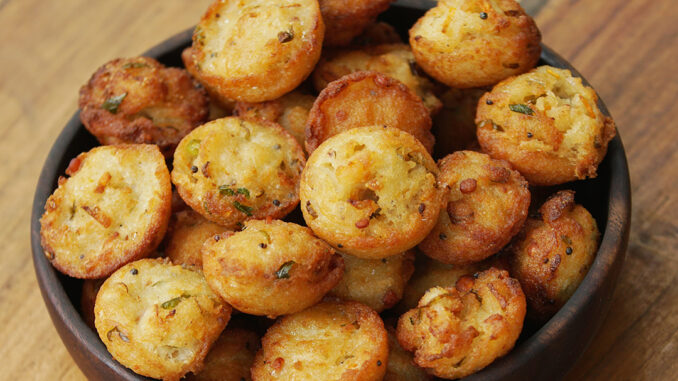 Ingredients
Semolina – 1 cup
Curd – ½ cup
Onion – 2 nos
Green chilli – 3 nos
Ginger – ½ medium piece
Garlic – 4 or 5 nos
Carrot – 1 medium
Beans – 6 or 7nos
Grated coconut – ½ cup
Curry leaves – 2 sprigs
Urad dal- 1 tsp
Chana dal -1 tsp
Mustard seed – 1 tsp
Salt – 1 tsp
Oil – 3 tbsp
Method
First we take a large bowl add samolin ,salt and fresh curd mix well.
Then we have to add water and coconut oil mix well to form a smooth dosa batter
consistency.
Heat oil in a pan add mustard seed ,urad dal and china dal ,let it splutter .
Add curry leaves,chopped onion,green chilli,grated coconut and crush ginger and garlic saute
well for 5 to 6 minutes.
Add the chopped carrot,chopped beans,and salt .cook for 3 to 4 minutes till beans and carrot
turn soften.
Then transfer the veggies for the semolina batter .mix the batter well.
Heat a paniyaram pan and pour oil in each hole .ones the pan gets hot ,pour some batter mix
in each of the holes.
One side is ready flip the other side and cook for some minutes until it gets crispy on the
outer side.
Ones done ,remove from pan and set a side.
Serve and enjoy the masala paniyaram.