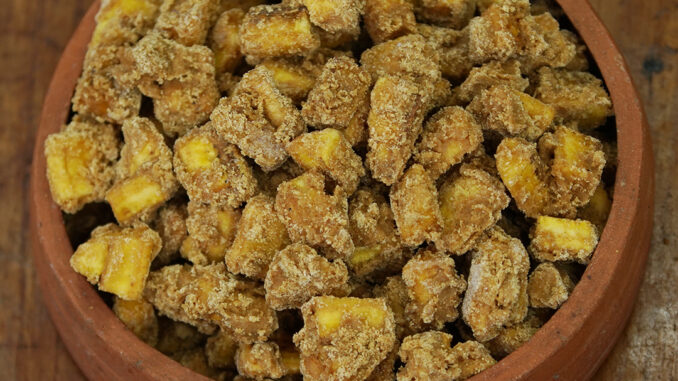 Ingredients
Raw banana – 1 kg
Rice flour – 1cup
Jaggary – 250 grm
Cardamom – 4 or 5 nos
Dry ginger powder – 1 tbsp
Cumin powder – ½ tbsp.
Oil – 1ltr
Method
Firstly ,we have to peel and cut the raw banana and set a side.
Then we have to deep fry in hot oil till crispy.
Boil jaggery and water in a pan and boil till liquid, strain it and set aside.
Then we have to crush cardamom and set a side.
Heat a pan add rice flour and roasted well.
Now we heat oil in a pan add jaggery water ,stir continuously.
Add roasted rice flour mix it well.
Then we have to add dry ginger powder,cumin powder mix well.
Add fried raw banana pieces and coated it well
Finally we sprinkled some rice flour and mix it well.
Let it cool and store in a air tight container.
Serve and enjoy the sweetness of shakkara varatti.