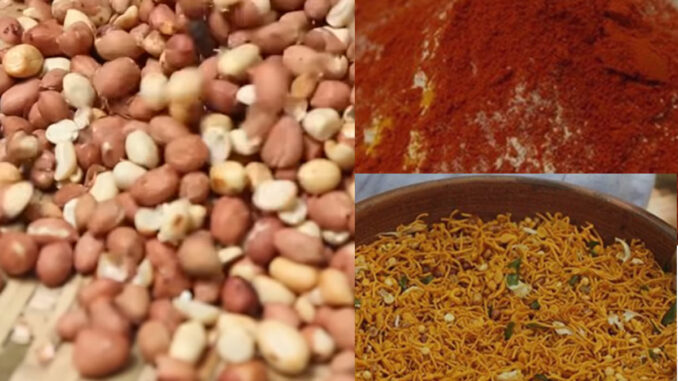 Ingredients
*Peeled peanuts – 1/2 kg.
*Crushed garlic – 1 no.
*Curry leaves – as desired.
*Besan powder – 1/2 kg.
*Turmeric powder.
*Salt.
*Split channa dal.
*Asafoetida.
Method
1) Make a dough out of besan powder, turmeric powder, salt, chili powder, asafoetida, and water. Take a small portion of the dough and add water to make it a batter for boondi.
2) Heat oil in a wok, fry curry leaves and keep aside.
3) Fry garlic once crisp keep it aside. Similarly, fry peanut followed by split channa dal.
4) Using a dotted spoon over oil to fry the boondi, pour the batter over the spoon. Fry on low flame. Once done keep aside.
5) Mix all the fried items and keep them aside.
6)Grease the Sev Press or the Sev Sancha with oil and place the plate with many holes into the press.
7) Fill in the dough into the press.
8) Press out the dough into the hot oil. Fry it till it turns golden brown, using a slotted spoon drain excess oil out and transfer on a plate with an oil absorbent paper to cool completely. Break it unevenly like in the mixture.
9) Add salt, chili powder, to the mixture, and combine all the fried items.
Mixture is ready.