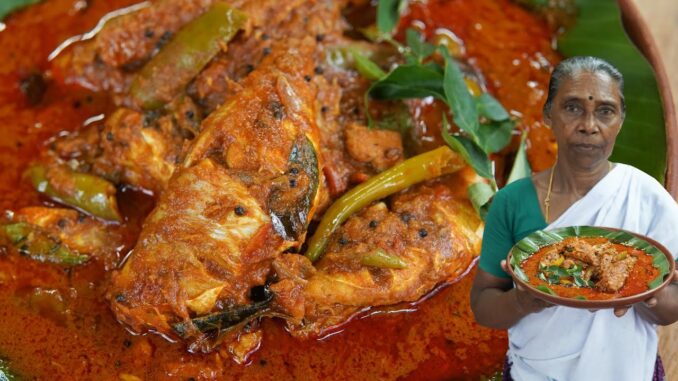 Ingredients
Fishes – 1 kg
Shallots – 20 to 21 nos
Ginger – 1 nos
Garlic – 8 to 9 nos
Green chilli – 2 to 3 nos
Curry leaves – 2 to 3 sprigs
Tomatoes – 1 nos
Tamarind – small ball.
Pepper seed – 1 tbsp
Fennel seed – 1 tsp
Red chilli powder – 1 tbsp
Coriander powder – 1 tbsp
Turmeric powder – 1/2 tbsp
Salt – 1 or 2 tsp
Oil – 2 to 3 tbsp
Method
First ,we have crush the ginger, shallots, pepper seed and fennel seed.
Then add coriander powder, red chilli powder and turmeric powder into smooth paste and set aside.
Heat oil in a pan,add mustard seed and fenugreek seed and let them sputter.
Then add curry leaves ,shallots and green chilli
Saute them well for a few minutes
Then add the chopped tomatoes and saute them well until they become soft.
Then add grinder paste like red chilli powder, ginger, shallots, etc. mix
Combine them well
Then add a sufficient amount of water and mix them well.
Cover and boil them well.
Then add fishes and mix them well with masala .
Cover and cook them well.
Then add some coconut oil and curry leaves.
Cook for a few minutes.
Remove from fire and set aside
Serve the tasty fish curry with boiled tapioca.