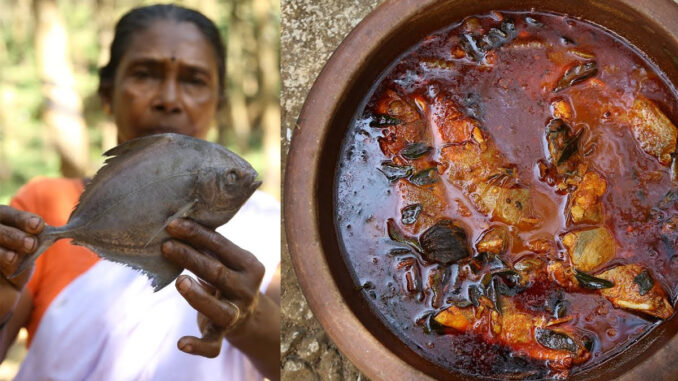 Ingredients
*Pomfret – 1/2 kg.
*Pot tamarind – 6 nos.
*Ginger and Garlic (Crushed) – 1 tablespoon.
*Green chilies – 6 nos.
*Mustard – 1 teaspoon.
*Chili powder – 1 and 1/2 tablespoons.
*Turmeric powder – 1/2 teaspoon.
*Fenugreek powder – 1/2 teaspoon.
*Curry leaves – 2 stems.
*Salt to taste.
Method
1)Clean and cut the fish.
2)Clean the garlic and ginger, crush and keep it aside. Cut 6 green chilies to 4 each.
3)Heat a pot with oil, splutter mustard seed.
4)Saute in crushed ginger and garlic, and slit chilies. Saute till the rawness subside. Add in curry leaves.
5)Add in 1 and 1/2 tablespoon chili powder and saute.
6)Once chili powder starts to change color add in the pot tamarind, salt, and water and bring it to boil. Add in 1/2 teaspoon each of turmeric and fenugreek powder.
7)To the boiling gravy, add the fish and cover and cook.
Tasty Pomfret gravy with pot tamarind !