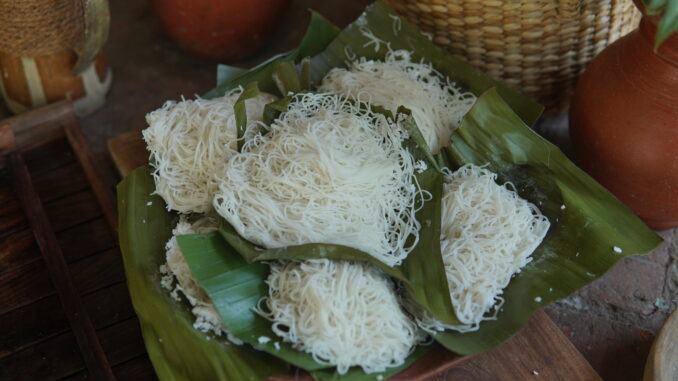 Ingredients
Rice flour – 1 ½ cup
Grated coconut- 1 cup
Banana leaves – 10 to 12 small pieces
Water – 1 cup
Salt – 1 or 2 tsp
Method
Firstly ,take a large bowl add rice flour and pinch of salt mix them well.
Then add some water and mix them well till they become moist and set aside.
Then we have to cut banana leaves into small pieces .
Sprinkle some grated coconut into the banana leaves.
Now add some dough into the mould and press the idiyappam into circle shape onto the banana
leaves.
Then heat water in a steamer and placed the idiyappam into the steamer .
Cover and cook for 8 to 10 minutes.
Ones it is ready remove the idiyappam into the steamer and set aside.
Serve and enjoy the idiyappam with beef stew ..