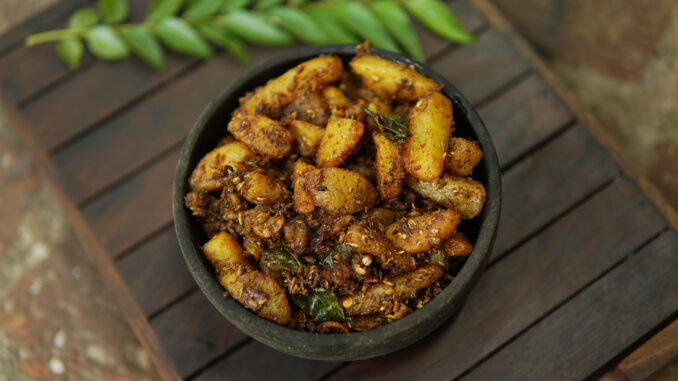 Ingredients
Potatoes – 4 nos
Garlic – 6 or 7 nos
Ginger – 1 nos
Green chilli – 2 or 3 nos
Curry leaves – 2 or 3 sprigs
Coriander seed – 1 tbsp
pepper powder – 1 tbsp
Dry red chilli – 5 or 6 nos
Red chilli powder – 1 tbsp
Turmeric powder – 1/2 tbsp
Garam masala – 1 tbsp
Asafoetida powder – 1/2 tbsp
Cumin seed – 1 tsp
Salt – 1 or 2 tbsp
Oil – 3 to 4 tbsp
Method
Heat water in a pan add potatoes .
Boil them well
Then we have to grind coriander seed into fine powder ,set aside.
Drain boiled potatoes ,put them in a bowl filled with cold water .
Then peeled and set them aside.
Then cut them into small pieces and set aside.
Heat oil in a pan add  cumin seed ,let them spluttered .
Add dry red chilli ,chopped ginger and garlic .
Then add some chopped green chilli ,sauté them well.
Then add spices like red chilli powder ,turmeric powder ,garam masala and asafoetida powder
Then we have to add crush coriander seed powder and sauté them well.
sprinkle some salt and mix them well.
Add curry leaves and sauté them well.
Add boiled potato pieces and sauté them well.
Finally we have to add pepper powder .
Saute and fry them well.
Remove from fire and keep aside.
Serve the tasty potato fry with meals.