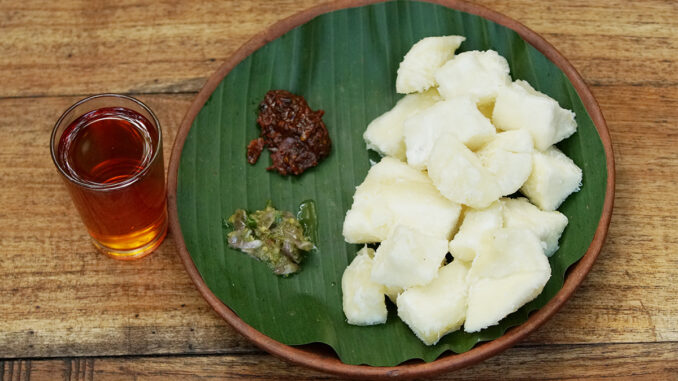 Ingredients
Tapioca -1kg
Water-for cooking
Salt – 1 tsp
Method
 First we peel , cut and clean the tapioca.
 Then we take a heavy bottom pot ,pour enough water into it
 Add cleaned tapioca and pinch of salt and bring to boil.
 When the tapioca is well boiled, drain the water and set a side.
 Serve and enjoy the traditional village breakfast tapioca recipe with chutney..
Birds Eye Chilli Chutney Recipe
Ingredients
Birds eye Chilli – 7 to 8 nos
Shallots-9 to 10 nos
Coconut oil -1 tbsp
Salt – to taste
Method
 First we crush birds eye , salt and shallots.
 Then we transfer the chutney into a bowl .
 Again we add one table spoon of coconut oil and mix well.
 Serve the chutney with boiled tapioca .
Dry Red Chilli Chutney
Ingredients
Dry red chilli – 5 or 6 nos
Tamarind – small size ball
Shallot – 8 to 9 nos
Coconut oil – 1 tbsp
Salt – to taste
Method
 First of all,the dry red chillies should be burnt on fire for some minutes.
 Then wash and cleaned the dry red chillies.
 Then we grind dry red chilli , salt , shallots and small piece of tamarind into fine
paste.
 Then we transfer the chutney into a bowl .
 Now we add one table spoon of oil and mix it well
 Serve the red chilli chutney with boiled tapioca.