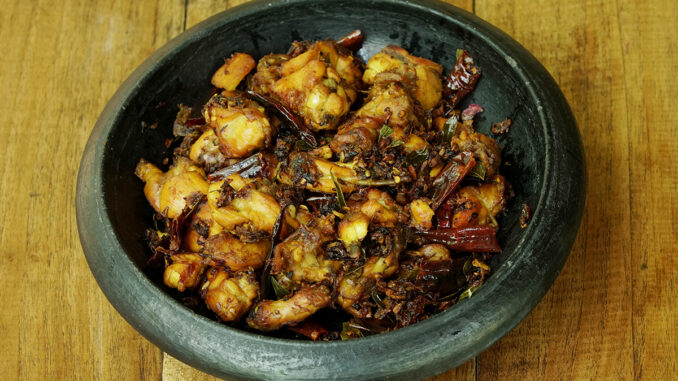 Ingredients
Chicken – 2 kg
Shallots – 20 to 25 nos
Ginger – 1 big
Garlic – 7 to 8 nos
Fennel seed – 1 tsp
Dry red chilli – 5 or 6 nos
Turmeric powder – ½ tbsp.
Salt – to taste
Coconut oil – 2 tbsp
Method
 First we cut and clean the chicken and put it in a bowl.
 Then we crush ginger and garlic separately and keep it in a side.
 Heat oil in a heavy bottom pan add fennel seed when they splutter
 Add shallots and salt ,mix and saute well for some minutes.
 Again we add crushed ginger , garlic and dry red chilli ,mix well and saute for some minutes.
 Now we add chicken pieces and mix well.
 Finally we add some salt and turmeric powder mix well and cook for 10 to 12 minutes.
 After the chicken is ready ,turn off the flame and replaced.
 Serve and enjoy the onion chicken roast fry with appam.