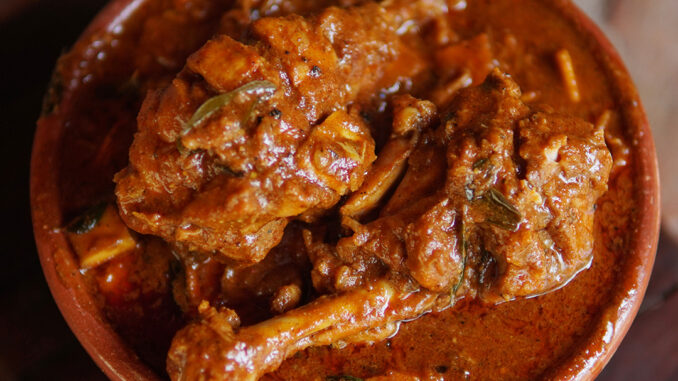 Ingredients
Chicken – 1 kg
Ginger-1 nos
Garlic – 7 to 8 nos
Onion – 2 nos
Shallots – 2o to 22 nos
Curry leaves – 3 to 4 sprigs
Coconut pieces – ½ cup
Red chilli powder- 2 tbsp
Coriander powder – 1 ½ tbsp.
Garam masala – 1 tbsp
Pepper powder – 1 tbsp
Turmeric powder – ½ tbsp.
Salt – 1 or 2 tsp
Oil – 3 or 4 tbsp
Method
Firstly cut ,clean and wash ,then set aside.
Then we have to crush ginger ,garlic and green chilli ,keep aside.
Again we crush some shallots approximately 10 to 12 nos,keep a side.
Heat a pan add red chilli powder and coriander powder saute for some minutes and set aside.
Take a bowl add crush shallots,crush ginger garlic ,green chilli paste,turmeric powder,sauted red
chilli and coriander powder ,oil and curry leaves mix then well.
Then take a wide bowl add chicken pieces , masala mix like crush shallots, sauted red chilli powder
and coriander powder etc and salt .mix them well and marinated for half an hour.
Heat oil in apan add chopped onion and saute for some minutes .
Then add marinated chicken pieces mix them well ,cover and cook for 7 to 8 minutes.
Now add some water and combine them well .
Cover and cook till the chicken become soften.
Ones the chicken is ready add coconut pieces,garam masala and pepper powder ,cook for some
minutes.
Remove from fire and set aside.
Heat oil in a small pan add chopped shallots and curry leaves ,fry them well .
Then pour the mixture into the chicken curry pan mix them well.
Serve and enjoy the tasty curry with appam .