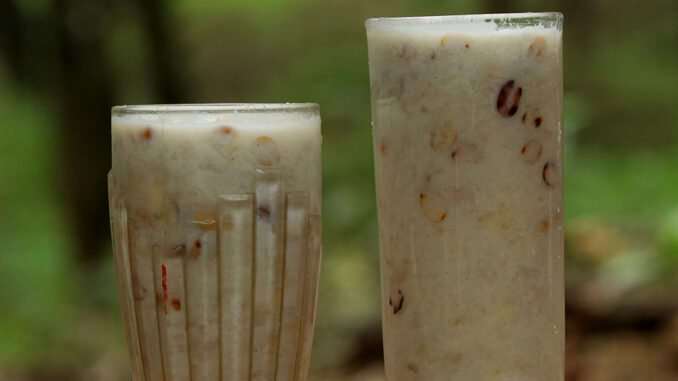 Ingredients
Milk – 1 ½ glass
Banana – 2 nos
Rice flakes- 1 cup
Peanut – 250 grm
Sugar – 2 or 3 tbsp
Ghee – 3 or 4 tbsp.
Method
First we have to boil the milk and set aside.
Heat ghee in apan and roasted the rice flakes until they became crisp,set aside
Then again heat ghee in apan ,then roasted the peanut and set aside.
Then peel and cut the bananas into thin slices keep it into abowl.
Then add some sugar into the banana slices bowl and mash them well with spatula, keep aside.
Take a large glass add banana pure mix,roasted rice flakes,roasted peanut and boiled milk mix then
with spoon then add some rice flakes and peanut mix them well.
Serve and enjoy the tasty aval milk .