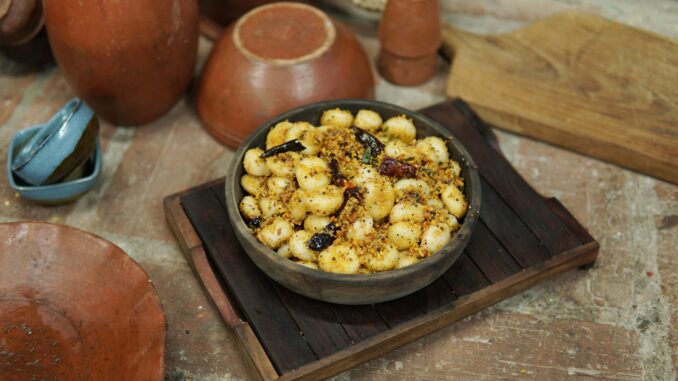 Ingredients
Rice flour – 1 cup
Grated coconut – ½ cup
Curry leaves – 3 or4 sprigs
Urad dal – 1 tsp
Dry red chilli – 6 or 7 nos
Mustard seed – 1 tsp
Salt -1 or 2 tsp
Method
Take a pan add urad dal and toor dal saute for few minutes and set aside.
Again add dry red chilli to the pan ,fry for1 or2 minutes, keep aside.
 In a pan  add the water and salt boil them well.
Then slowly added the rice flour, stir them well for 2 to 3 minutes, keep aside.
Crush the sauted ingredents like urad dal ,toor dal and dry chilli into fine powder ,keep aside.
Once the rice dough is slightly cooled, make small sized balls and press the middle of the
balls, keep a side.
Then take a idli steamer add water boil them well .
Once the water is boiling  put the idli plate with the rice balls on top of the plate and cover
with lid ,then cook for 10 to 15 minutes .
Then turn off the flame and remove the steamed rice balls to the plate.
Heat oil in a pan add mustard seed ,let them cracled.
Add toor dal ,dry red chilli and curry leaves ,saute for few seconds.
Then add steamed rice balls, mix them well.
Add grated coconut and crushed powders like urad dal ,toor dal etc ,mix and cook for 3 to 4
minutes.
Remove from fire and keep a side.
Serve the tasty breakfast with tea or coffee.