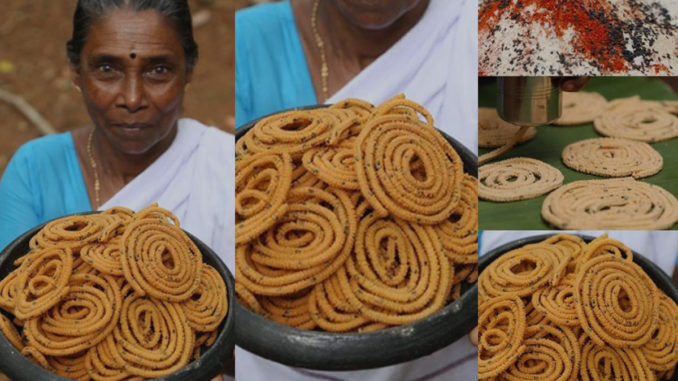 Ingredients
*Urad dal( roasted and powdered) – 1 cup.
*Rice powder – 1 cup.
*Cumin / Jeera – 3 teaspoons.
*Chili powder – 1 teaspoon.
*Salt to taste.
*Asafoetida(hing) powder – 1 teaspoon.
*Sesame seeds – 1 teaspoon.
*Coconut oil – for frying.
How to prepare
1. Combine urad dal powder and rice powder thoroughly.
2. To the above mixture add cumin, chili powder, asafoetida powder, sesame seeds, and salt. Combine well. Once done add little by little hot water and knead a soft dough. Apply some oil on the top of the dough and leave it to rest for 10 mins.
3. Heat a wok. Once the wok is hot add oil.
4. Grease the Sev Press or the Sev Sancha with oil and place the plate with star into the press.
5. Fill the dough into the press.
6. Use a banana leave to press out the dough to make a spiral. If you wish to have straight murukku you can press it out accordingly.
7. Put the flame on medium-high. Make sure the oil is hot enough.
8. Drop the pressed out dough in the oil. Fry till golden and crisp.
Yummy crispy rice murukku is ready.