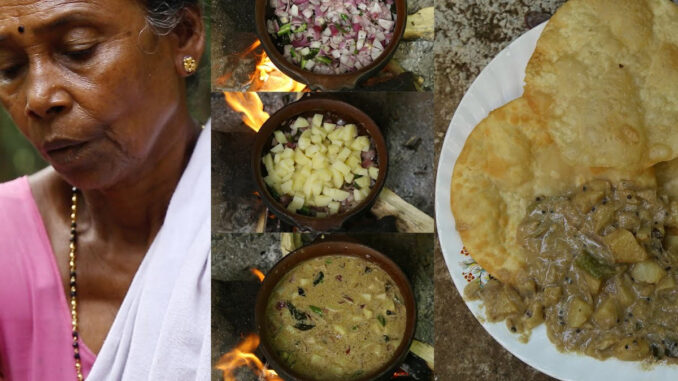 Ingredients
Poori
*Wheat flour.
*Salt.
*Oil.
Potato curry
*Potato – 1/2 kg.
*Onion – 4 medium sizes.
*Shallots – 5.
*Green chilies -3nos.
*Coconut – 1 no.
*Oil.
*Mustard.
*Coriander powder – 2 tablespoons.
*Fennel.
*Star anise.
*Cinnamon
*Salt.
*Curry leaves.
Method
1) Cook potatoes and chop them into pieces.
2) Extract thick and thin coconut milk.
3) Chop onion and green chilies into small pieces.
4) Heat oil in a pan, splutter mustard. Saute shallots, onion, green chilies(3), curry leaves. Once done add potato.
5) Add in fennel, cinnamon, and star anise.
6) Add coriander powder and garam masala to the thin coconut milk. Pour it into the potato mix and season with salt.
7) Cover and cook. Mash the potato.
8) When the curry thickens mix in the thick coconut milk and once boiled, remove it from flame.
9)Prepare the dough for poori. Heat oil in a pan to fry the poori. Roll our poori and deep fry them.
Tasty poori and potato curry ready.