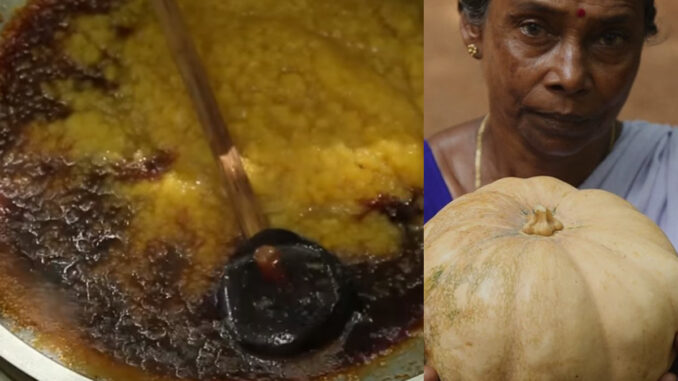 Ingredients
1. Finely chopped pumpkin – 1no.
2. Jaggery – 1/2 kg.
3. Sago – small glass.
4. Coconut milk ( as required)
5. Cow milk – 1 liter.
6. Cardamom powder.
7. Cumin powder 3/4 teaspoon.
8. Ghee.
9. Fresh coconut finely chopped.
10. Cashew.
11. Raisins.
12. Dried ginger powder.
Pumpkin payasam
1) Cook sliced pumpkin in little water.
2) Cook cleaned sago.
3) Make jaggery syrup.
4) Heat the uruli, add ghee once hot, add the jaggery syrup, and bring it to boil.
5) To the hot jaggery add the cooked pumpkin and sago. Add cow milk.
6) Add dried ginger, cumin, cardamom powders to the payasam.
7) Heat a pan with ghee fry coconut, cashew, and raisin.
8) To the boiling payasam add the coconut milk. Turn off the flame before a boil.
9) Add the fried coconut, cashew, and raisin to the payasam.
Pumpkin payasam is ready…enjoy !