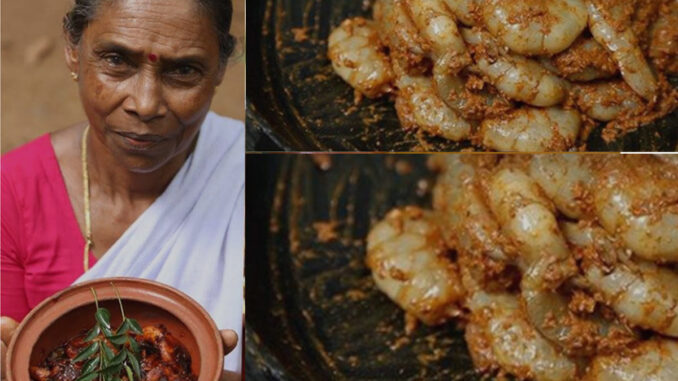 Ingredients
*Vinegar.
*Prawns – 1/2 kg.
*Kudampuli / Gambooge Pot tamarind.
*Ginger.
*Garlic.
*Pepper – 2 teaspoons.
*Coriander.
*Turmeric powder.
*Dried chilies.
*Green chilies – 4 nos.
*Sal to taste.
*Coconut oil.
*Curry leaves.
*Mustard seed.
*Chili powder – 3 teaspoons.
*Asafoetida.
Method
1) Clean prawns and wash in kudumpoli infused water.
2) Make a fine paste of dried chilies ( 8 – 10 nos.), salt (to taste), turmeric powder, coriander (1 tablespoon), pepper (1 tablespoon), ginger ( 3 pieces), garlic( 10 cloves). Marinate the prawns with the paste.
3) 20 minutes later fry the prawns in coconut oil with curry leaves.
4) Heat oil in a pan, add mustard and splutter mustard seeds. Add chopped ginger ( big piece), garlic (8 cloves), green chilies ( 4 nos), and curry leaves. Once the raw smell subsides add 3 tablespoons of chili powder and saute. Saute in the fried prawns, 4 tablespoons of vinegar, and 1 teaspoon of asafoetida.  Remove it from flame.
Tasty prawns is pickle ready…