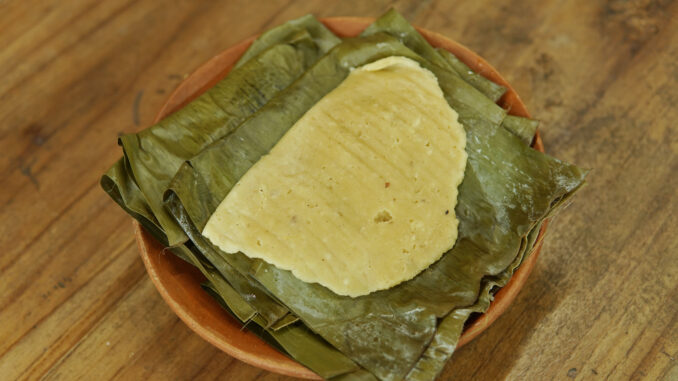 Ingredients
Jack fruit – 1kg
Rice flour – 1 ½ cup
Cardamom – 3 nos
Jaggery – 1 cup
Grated coconut – 1 cup
Dry ginger powder – 1 tsp
Ghee – 1 or2 tbsp
Salt – 1 pinch
Banana leaf- 7 or 8 nos
Method
Firstly we have to peel and remove the outer thorn, the cut and remove the seeds in all the jackfruit
pieces ,setaside.
Then chopped and grind the jackfruit in to fine puree ,keep aside.
Heat water in a pan add grated jaggery and boil them well,keep aside.
Crush cardamom and set aside.
Take a bowl add rice flour , grated coconut ,jack fruit puree , salt, dry ginger powder and cardamom
powder mix them well.
Pour the jaggery water little by little to the rice flour , mix well thoroughly until to a smooth dough.
Add some ghee and combine them well , set aside.
Then take a piece of banana leaf and Place lemon size dough in the center of the leaf, flatten it with
finger.
Fold the banana leaf in half, set aside.
Heat a steamer and placed the ada and cook them well.
Remove the ada from the steamer , set aside.
Serve thetasty jackfruitada with tea.