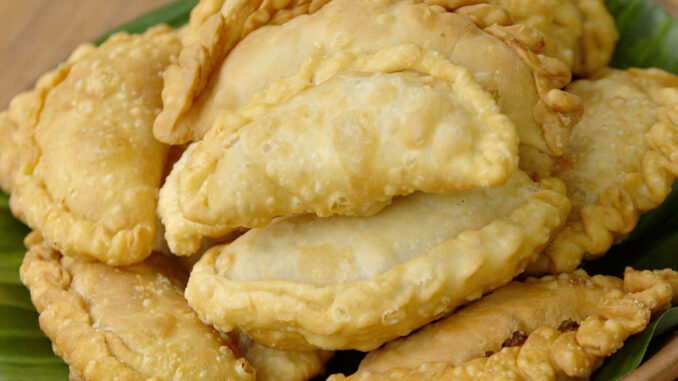 Ingredients
Maida- 1 kg
Semolina -1/2 cup
Grated coconut – 1 cup
Pistachu –small amount
Cashew nut – 250 grm
Peanut – 250 grm
Cinnamon – 3 nos
Sugar – 1 cup
Ghee – 4 or 5 tbsp
Salt – to taste
Oil for frying
Method
First we have to take a clean bowl then add maida,salt and ghee mix well with using your finger
Again we have to springle some water and ghee into the pan and mix well and kned to form a stiff
dough, set aside.
Heat a pan add grated coconut and ghee roasted well until the coconut colour turns light brown ,set
aside.
Then to the same pan add ghee,then add pistachu , cashewnut and peanut saute well and set aside
Now to the same pan,add semolina and roast until they turns light brown ,set a side.
Then we have to crush sugar and cardamom into powder and set aside.
Then we have to mix all the filling ingredients like roasted coconut ,semolina,sugar mix, pistachu,
cashew and peanut .etc..
Then we have to divide dough into equal balls
Roll each dough balls into a small circle.
Then we have to fill the fillings inside,press the two ends together to seal with fingers and set a side.
Heat oil in a pan and fry the gujiya till golden brown to both sides .
Drain the excess oil and set a side
Serve and enjoy the sweet snack recipe with tea..