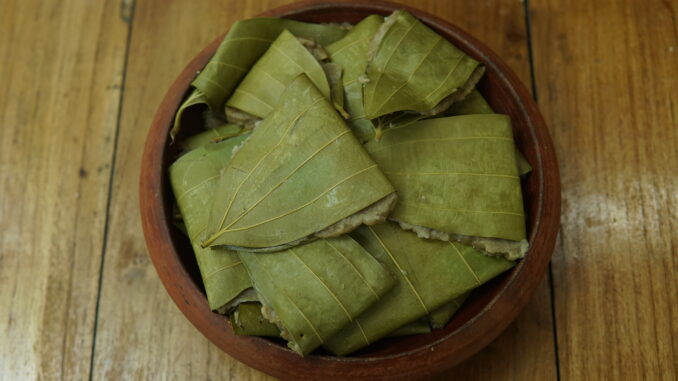 Ingredients
Wheat flour – 1 cup
Rice flour – ½ cup
Banana- 4 or 5 nos
Jaggery – ½ cup
Grated coconut – 1 cup
Cardamom -4 or 5 nos
Ghee – 3 or4 tbsp
Method
Firstly we have to crush cardamom into powder and keep aside.
Then we have to chopped the peeled banana into small slices ,set aside.
Now we have to grated the jaggary with knife and keep aside.
Heat ghee in a pan add chopped banana and mash with spatula.
Add grated jaggery and mix them well.
Then add grated coconut and mix it well.
Then we have to add wheat flour ,rice flour and cardamom powder mix them well.
Now add some water and mix them well to make a soft dough and keep aside.
Then we take cleaned bay leaves and place a lemon size dough in the centre of the leaf.
Flatten the  dough with fingers to get a nice and even flattened dough.
Then fold from the other side and press lightly.
Place the ada in a idli steamer and steam it for 10 to12 minutes on high heat .
Remove from fire and set aside.
Serve the vayanayila appam with tea or coffee.