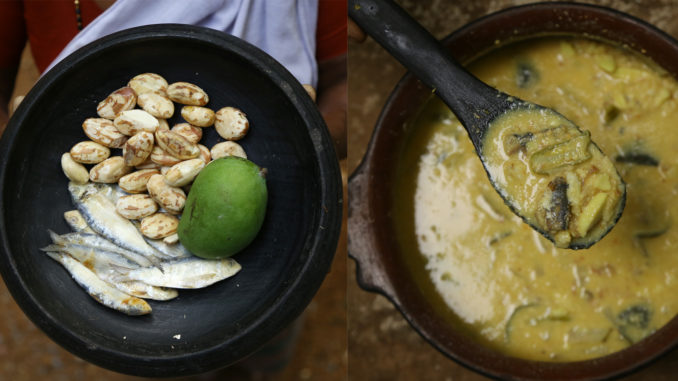 Dry Fish Curry With Mango
Ingredients
dry fish or Unakka meen – 6 or 7 (Around 100 gm)
jackfruit seeds – 10 – 15
Raw mango – 1 or 2 nos, peeled and cut into small pieces
Green chilies – 3, slit
Curry leaves – 1 sprig.
Grated coconut – 1 cups
Turmeric powder – 1/2 tsp
Garlic – 3 or 4 petals
Dry red chilli – 3 or 4
Coriander powder – 1 tsp
Shallots – 3 or  4
Salt – To taste
Water – As required
Coconut oil – 1 tbsp
Method
 First we clean the jackfruit seed and mango ,peel the skin and cut into small pieces
 Take a kadai or pan ,add in the cleaned and sliced jackfruit seeds add 1 cup of water,
turmeric, green chilli and salt for 10-12 minutes, until the seeds becomes soft .
 Grind the grated coconut with 3 – 4 shallots, dry red chilli ,salt and little water to a fine paste.
 Once the jackfruit seeds are done, add the sliced mango pieces and dry fish . Cook until they
are soft and tender.
 Add the grounded coconut mixture. Cook until the raw smell disappears
 Switch off the flame and keep it aside.
 Serve it hot as a side dish for rice.