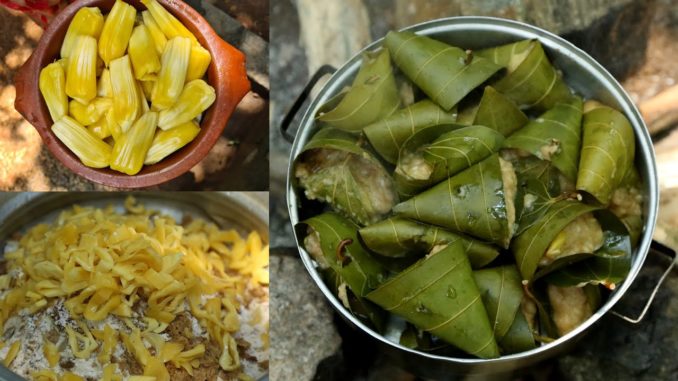 Chakka kumbil
Ingredients
Ripe Jackfruit: 1 cup
Jaggery : 1/2 cup
Grated Coconut : 1/2 cup
Roasted Rice Flour : 1 cup
Cumin Seeds : 1/4 tsp (crushed)
Cardamom Powder : 2 or nos (crushed)
Bay Leaves : as required
Water: 1cup
Salt to taste
Method
 First we take a bowel and add rice flour ,grated coconut ,cumin
seed,cardamom powder,jackfruit and jaggery,then add a pinch of salt
 Mix them well,and combine well with your hands.
  Add water little by little and make a smooth dough. It should not be too
thick or too loose. The consistency should be little looser than the
chappathi dough.
 Now take the Bay leaves and make cones withit
 And place small round dough in the bay leaf ,bend the top of the leaves
and press inside to cover the top.
 Place it in a steamer and cook for 10 to 15 minutes, or until bay leafs
colour changes.
 Once it is cool enough to touch remove the wrapper and enjoy with hot
tea.